Expert Support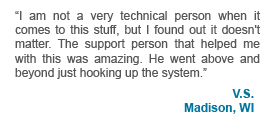 At Home Theater Direct®, priority one is designing and making affordable hi-end gear for home theater and multi-room audio. But we also know that the success of our HTD brand is greatly dependent on the successful implementation of our gear into your home audio project. To that end, we provide expert customer support reps available Monday-Friday, 8am-6pm to assist you before and after a sale.
Give us a call on our local 972-312-9900 or toll free line 1-866-HTD-AUDIO (866-483-2834) to discuss your home audio project. Our expert support reps have an average of more than 15 years of home audio experience. We take the time to understand your needs and are happy to assist you throughout the decision making and installation process. Confused by your Whole House Audio options? Read our president's white paper.
As always- expert customer support before and after a sale is free at HTD!