Shipping & Tax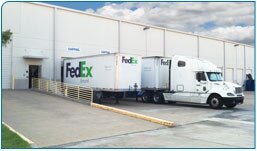 We ship everything from our own facility near Dallas, Texas (complete address is found at the bottom of this page). Orders received by 2:00 PM Central Time, M-F usually ship the same day.
Once your order has shipped you will receive an email directly from FedEx* that confirms the shipment and provides the tracking number(s) and day of delivery.
Sales tax is only added to orders shipping to a Texas address.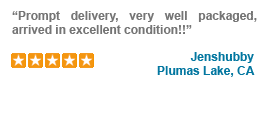 Continental USA*
Total Order
FedEx Ground
All Other Methods
$0 - $99
$7
Actual FedEx Rate
$100 - $299
$15
Actual FedEx Rate
$300 - $499
$25
Actual FedEx Rate
$500 - $699
$35
Actual FedEx Rate
$700+
$45
Actual FedEx Rate

FedEx Ground capped rates are not available for shipments to Hawaii, Alaska, Puerto Rico and The Virgin Islands.
Time-in-Transit Map for FedEx Ground from our location in Plano, Texas.
Click on the map to confirm the exact delivery time to your zip code. Enter 75074 as the origin.
FedEx Ground and FedEx Home Delivery service offer the best value as we cap the cost to you based on the total dollar value of your order.
FedEx Ground- delivers Monday through Friday (non-holidays) to business and residential addresses during regular business hours. Transit times do not include Saturdays, Sundays, or holidays.
FedEx Home Delivery- delivers Tuesday through Saturday (non-holidays) to residential addresses typically later in the day and early evening. Transit times do not include Sundays, Mondays, or holidays.
FedEx Next Day and 2nd Day Air service are also available, but you are charged the actual FedEx rate based on the total weight of the order and the distance to your destination. This amount is calculated at the time you enter your shipping address via a live link to the FedEx rate page. This occurs BEFORE any credit card information is required. Orders weighing more than 150 total pounds may require special attention in order to ship by any method other than Ground. In this case, the shipping charge may not be automatically added to your order. Please call for quote.
Sales tax is added only to orders shipping to a Texas address. Shipments to Puerto Rico and the U.S. Virgin Islands will likely incur a tax that is NOT covered by Home Theater Direct and is due and payable upon receipt of merchandise.
Canada
Total Order
FedEx Ground
All Other Methods
$0 - $99
$22
Actual FedEx Rate
$100 - $299
$30
Actual FedEx Rate
$300 - $499
$40
Actual FedEx Rate
$500 - $699
$50
Actual FedEx Rate
$700+
$60
Actual FedEx Rate
Orders shipping to Canada will be adjusted to include a FedEx Customs Clearance fee of $35, duty, and Canadian taxes (GST, HST, PST, etc.) as appropriate to your province. We will email you an adjusted order for your approval prior to fulfilling your order. Upon fulfillment, these charges are paid in advance along with the items shipped. You will pay nothing upon delivery. Please note that these charges are not refundable as part of our 30-day guarantee.

International Shipping Now Available!

We have partnered with Bongo International to service our customers Worldwide!
Bongo International provides our customers with their very own US address. Once you have a US address, you will be able to make purchases with us as well as other US based online retailers. Bongo receives your purchases and logs them into their online system which you can use to view your items and consolidate them with multiple orders.
International customers can save up to 82% off typical international shipping rates by following these four easy steps:
Register with Bongo and receive a U.S. shipping address.
Enter the Bongo address as both your billing and shipping address.
Use the credit card that you have on file with Bongo as the payment method.
Once the order arrives at Bongo, log into your account to forward to your country.
If you have any questions, please feel free to contact Bongo through live chat or by e-mail. They will be glad to assist you.
Sorry, HTD only accepts orders shipping to a U.S. or Canadian address.
HTD reserves the right to cancel any order it considers a high risk of fraud.
Orders shipping to an address different than the billing address may be delayed for verification.
Home Theater Direct, Inc.
1000 Shiloh Rd. #100
Plano, TX 75074
local 972-312-9900; toll free 866-483-2834
Mon-Fri 8am-6pm, CST