High Definition




Uncompromised sound shouldn't have to compromise your wallet. Our HD line of in-wall and in-ceiling speakers includes components and features normally found only on MUCH more expensive brands. Keep the money you'd otherwise be giving to middlemen and buy direct from HTD!

Whether you're looking to complete your home theater with a custom built-in aesthetic, or simply wanting great sound spread throughout your home (even outdoors!), our award winning HD line is an affordable solution that is sure to please even the most fastidious listener. Need a single in-wall or in-ceiling speaker for use as a center channel or some other purpose? All of our in-wall and in-ceiling speakers are also available as EACH.
Don't settle for a generic speaker- we specialize in speaker design and it shows in every speaker we make.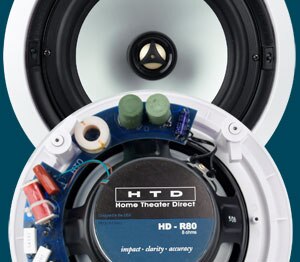 High Definition Installation Instructions
Steps for installing our HD in-wall and in-ceiling speakers.
Here are some things to consider when choosing from our High Definition line:
The swivel tweeters are recessed behind the grille so the speakers look perfectly flush, even though the most directional frequencies are aimed where you need them.
A +/-3dB tweeter switch and a +/-3dB woofer switch give you complete control in fine-tuning the speakers to your room and personal taste. Non-ideal placement, such as in a corner, is no longer a problem.
Our ceramic-coated aluminum dome tweeter produces crisp detail with none of the harshness or ringing associated with other metal dome tweeters.
The larger the woofer, the more bass you will achieve. You also get more power handling. Both are important for large rooms.
The frame and grille can be painted to match your decor, making the speakers virtually invisible.
All of our HD in-wall and in-ceiling speakers are well suited for use outdoors and in high moisture areas like bathrooms. Each speaker includes weather-resistant components, stainless steel hardware, and a powder-coated aluminum grille that will not rust.