HTD Multi Purpose In-Wall and In-Ceiling Speakers

Turn your home into the audio haven you always knew it could be! Our Multi Purpose line of "disappearing" speakers makes rich, enveloping music in every room of your house an affordable reality. You save up to 70% over other high end brands because you're buying direct from the manufacturer.

Our MP line is perfect for background music spread throughout your home and is also well-suited for entry level home theaters.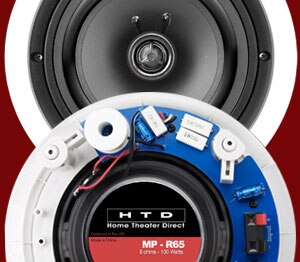 Multi Purpose Installation Instructions
7 Quick steps for installing our MP line of in-wall and in-ceiling speakers.
Don't settle for a generic speaker- we specialize in speaker design and it shows in every speaker we make.
Here are some things to consider when choosing from our Multi-Purpose line:
The swivel tweeters are recessed behind the grille so the speakers look perfectly flush, even though the most directional frequencies are aimed where you need them.
A +/-3dB tweeter switch allows you to fine-tune the speakers to your room and personal taste, or to better match other speakers in a surround sound environment.
Polypropylene woofers with a butyl rubber surround and oversize magnets produce a quick and accurate response from a speaker that will last virtually forever.
Our silk (not just fabric) dome tweeters provide a smooth response in the high frequency range, keeping vocals and dialogue clear and natural sounding.
The larger the woofer, the more bass you will achieve. You also get more power handling. Both of which are important for large rooms.
The frame and grille can be painted to match your decor, making the speakers virtually invisible.