HTD Basic Whole-House Audio System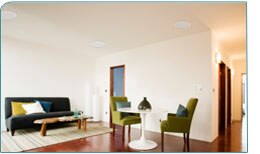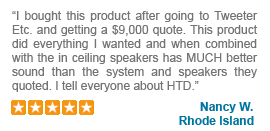 When you don't need every room to select its own audio source, extending audio from a central source throughout your home is easy. All you need is a 2-channel (stereo) or multi-channel amplifier, primarily depending on the number of zones you need, and a volume control in each zone. Each volume control can control one pair or multiple pairs (up to 8) of speakers.

4-conductor speaker cable is run from the amplifier to each volume control. 2-conductor speaker cable is run from each volume control to each of the speakers in that zone.



2-Channel Basic Setup

A multi-source, 2-channel (stereo) amplifier is shared across 1-4 volume controls. This is often the best solution when you have four or fewer rooms and require only moderate listening levels. Works great with, or without, an existing home audio receiver.
starting at $399




Multi-Channel Basic Setup

A 12-channel amplifier provides dedicated power to a volume control in each room. Suitable for any combination of up to 6 stereo or 12 mono rooms, with enough amplification for up to 24 8-ohm speakers. This is often the best solution for extending an existing home audio receiver into additional rooms.
$799